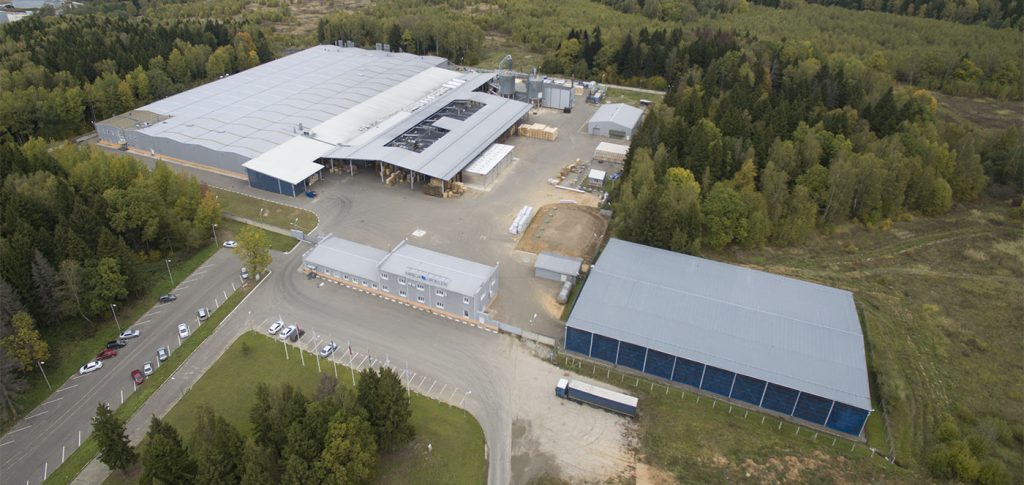 Our mission
Karelia-Upofloor offers high quality individual and vital solutions for the choice of floor coverings in every situation where the unique approach is appreciated. Combining enthusiasm for each detail of solution with the ability to produced wisely the quality material on a large scale, Karelia-Upofloor is capable to satisfy even most exacting inquiries for esthetic and functional floors, and hence creates sufficient added values of houses, offices and public places.
Our production
Karelia-Upofloor is an international company with focus on development seeking to become a leading European manufacture of parquet floors. Our hi-tech production facilities in Russia ensure high quality of parquet floors both for local market and for export to more than 40 countries worldwide. The factory in Romania plays the role of the producer of components for other divisions. The factory in Maklino applies the latest technologies in production and complies with the same strict quality control as all company's factories.
More than half a century in the sphere of floor coverings
Our history
Karelia-Upofloor originates in 1955 when Upofloor company has been founded. Karelia company, on the other hand, has started a business in the sphere of wood floors in 1981. These two powerful Finnish specialists in floors combined their efforts and merged in 2000 to form the Group on floor coverings – Karelia Corporation. Four years later members of Hartwall family became co-owners of the Group and at the end of 2006 the Group changed its name for Karelia-Upfloor Oy. In 2008 the Hartwall family acquired the remained company's shares and became the single owner. In 2002 Karelia-Upofloor merged with the Swedish company AB Gustaf Kähr. The majority owner Triton and the second largest owner Hartwall Capital. Kährs group delivers products to more than 50 countries and is a market leader in Sweden, Finland, Norway and Russia, and holds strong positions also in other important markets, e.g. the UK and Germany.
Whom we became
Company today
Today Karelia-Upofloor is one of the leading European manufactures of flooring materials and one of four largest producers of parquet floors in Europe. Having over 800 employees we are proud of our seven separate production divisions. Two of four plants for production of hardwood flooring are in Finland; one of them is in Russia and one in Romania. Furthermore, we have three plants in Finland for production of resilient floor coverings. Karelia-Upofloor products are exported in more than 40 countries in the world.
Experience in design
Our commitment to quality
We believe in innovative design which are evenly integrated in production processes. Our laboratory for products development, organized on the basis of production division in Kuopio and modernized in 2008, conceives new ideas for the whole branch, continuously carries out new research projects, tests and development of products, and at the same time performs the educational mission.
The design itself doesn't have any value, however in the industry of floor coverings it is capable to give absolutely new value to the product and to strengthen visual influence. Investing in design, we become a link of an architectural and design cost chain which, eventually, brings benefit to buyers of parquet floor for public places as well as for private houses. Our product range offers almost infinite choice of colors and materials for every taste.
Keeping the sustainable development
Our vision of environment
Karelia-Upofloor actively participates in various ecological programs, concerned with the future of natural resources. Environmental protection, work and safety measures are a daily part of all our operations. We seek to bear the ethical and ecological responsibility for our products during their service life. Products and operational processes are designed with the purpose to minimize impact on the environment.
Our operational processes use renewable energy everywhere where it is possible, and we don't dump harmful substances in water objects. We are strongly against the use of child labor. Our comprehensive approach to environmental issues is confirmed by the ecological system based on ISO 14001 and the quality system ISO 9001. These systems – the integral components of all system of economic activity of the company.